As I was walking through the shopping district of Kingston-on-Thames yesterday, I was wondering whether the locals had gotten the memo that the country remained on "High Alert" in light of the Manchester bombings. Here I was in the middle of an historic "village," walking across the Clattern Bridge (built in 1293) along with thousands of British shoppers, laughing and joking, sitting in pubs, talking about the rugby matches and generally going about their regular daily business as if nothing had happened. If I could have drawn little "thought balloons" above each and every person I observed, there would be one simple image of a raised middle finger everywhere. It was a wonderful, beautiful thing to witness.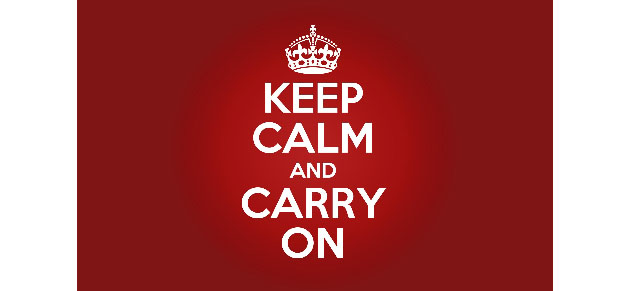 It should come as no surprise to anyone that knows British history that, as my father used to refer to it, this "little peanut of an island" ruled the world under the British Empire for most of the 19th century, ceding superpower status only after WWII to the U.S. and Russia after ruling the waves from the mid-1700s. It was in 1939 that the British government designed a poster (shown above) intended to prepare the citizenry by "shaping morale" for the imminent arrival of WWII with an increasingly bellicose Germany. While the poster was rarely displayed publicly, it epitomizes the "stiff upper lip" mentality of nation and explains a great deal of the majestic history of the country. Of course, I am talking up my book as all four grandparents were from England and many of my partner's first cousins are showing us around. For someone raised in a country barely 150 years old, to walk through churches built in the 1300s is awe-inspiring to say the least and intimidating at its best.
So as I attempt to make sense of today's markets with rampant interventions and blatant manipulations all designed to "shape morale" and keep the citizenry at once both complacent and behaved, it is as if the global banking cartel, working hand-in-glove with governments, are preparing for a cataclysm of sorts—a financial tempest that will make the "Blitz" of 1940-41 over London pale by comparison.